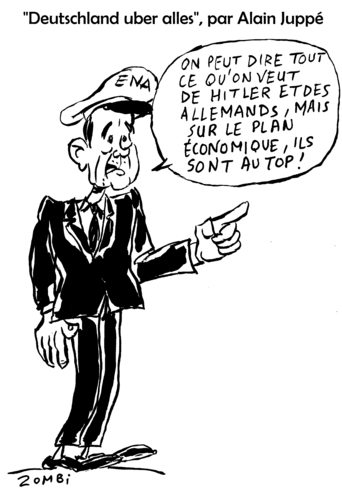 3249
The French who Loves Germany

2
Applause
de
Zombi
au 04. décembre 2011
- Obviously A. Hitler was a better Economist than Merkel-Sarkozy two heads little beast. And for sure those will stay as bad as they are.
- French Alain Juppé, stupid enough to let his friends say he is the best of its generation of politickers does ignore basic laws of Economy; either you make a lot of children (KKK) or you steal third world goods or let Chinese slave do the hardwork, that, after a while, they stop doing for nothing.
- Since twenty years A. Juppé gives Ethics lessons to whoever want some, though he was himself condemned for corruption. As A. Merkel he is condemning French 'frightening' leader Le Pen though his chief Sarkozy copied Le Pen ideas.
Politique » National/Domestic Finances Economy & Money Politicians Democracy