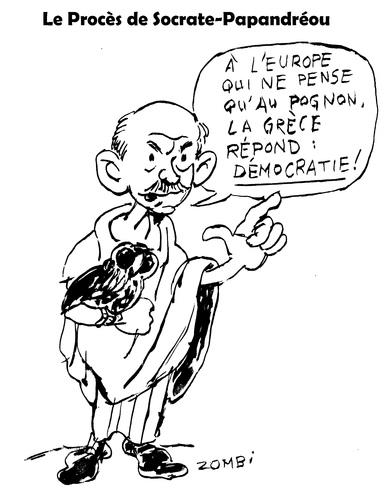 6181
Socrates Trial

2
Applause
de
Zombi
au 02. novembre 2011
Nobody is very naive now about the fact that 'Democracy' is what rich government gives to help poor people to wait for in peace.
Therefore G. Papandreou is Greek and he thus knows every trick about Democracy as much as Merkel or Sarkozy.
But... But with its Sunshine, its beautiful Sea, its not that bad Wine, with the evidency that Money makes not German people very happy (see the Artists from Berlin, their AAA Art!), why should Greece make Money for Nothing???
It is not healthy to work. Who will pay for Social Insurance. Germany? China? They make Social dumping as much as they can!
Be Greek, be Happy with nothing.
Politique » International Elections Taxes Finances Economy & Money Fraud & Corruption Politicians Democracy

Racing

Bin Lade...

Modern Old St...