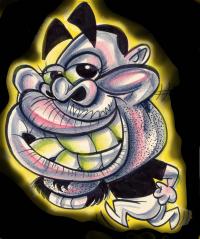 subwaysurfer
queens NY, États-Unis
Actif depuis April 10, 2009
www.caricatures4u2.blogsp...
1 218 290
Avis
77
Commentaires
13
favorisé
Sur mon travail
Nom
Elgin Bolling
Formation
school of hard knocks We learn best by trial and error. Self Education really is the best, drawing everyday, watching , playing with your art and having FUN!!
Style
Expression is EVERYTHING to me I try to capture that first. When working with pen beautiful flowing line work is a must
Outils
pitt brush pens Tombo Brush markers o.7 Mechanical Pencil combined with Blending stomp prismacolor art stixx for color . for digital photoshop
Influences
the list is TOO BIG now! Cartoonists and Caricature Artists all over the world!
Personnage
préféré
Cow and Chicken, Bugs Bunny, Flintstones, Rocky & Bullwinkle, Pink Panther... The list is endless!!!
Sur moi


Pro Caricature entertainer illustrator storyboard artist editorial artist character designer