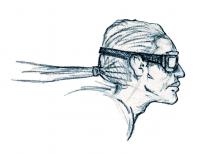 Niessen
"A dreamer is happy when he can share his visions."
Grosseto, Italie
Actif depuis May 05, 2011
www.norbertniessen.com
1 032 165
Avis
144
Commentaires
39
favorisé
Sur mon travail
Nom
Norbert Niessen
Anniversaire
1955-03-08
Formation
Graphic designer
Style
water color
Sur moi
In the beginning was the Berlin Wall, or rather, it was the 20th anniversary of its fall. I wanted to tell the old days to my children but could not find the right words. So I tried with the pictures and in 2009 I discovered again by chance, the passion of freehand drawing. I have always worked as an advertising designer, creativity for fee, a form of intellectual prostitution. All my life I have searched for a personal artistic way, free from contractors and constrictions. At first I tried with comics, later and for many years I worked for an even more complicated dream called Brain Ticket, a project meant to build entire interactive worlds. My critics accused me of being naive and retro. I felt really lost. With the small satirical stories instead I finally found my way. After working on the computer all day with the goal of selling any kind of goods and services, I need an outlet and the drawings have become my personal drug. Satire is an exercise in the synthesis of human character stereotypes, meant to bare their weaknesses by exaggeration. Nevertheless, it always conveys a positive message, hidden even behind the most terrifying visions.