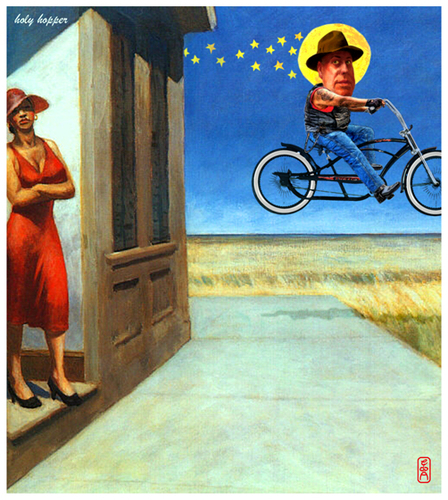 3380
holy hopper

de
edda von sinnen
au 08. juin 2013
Edward Hopper homage, master of atmospheric loneliness.
finally the question is answered where the hopper persons always looking for!
piece of "great dead artists on bicycles":-))
3 - artworks

und hier ein exzellenter Reim
von unserem Freund BAES :)

Er radelte einsam vor sich hin,
die Landschaft, sie war menschenleer,
mit ruhigem und klarem Sinn.
Da wurd´ das Radeln ihm zu schwer.
Schnell stieg er ab, der Edward Hopper.
Seither ist er Autostopper.
zenundsenfzensenfzenfpainterkarikaturbicyclesonartistsdeadgreathopperedwardsinnenvoneddacomposingcartoon