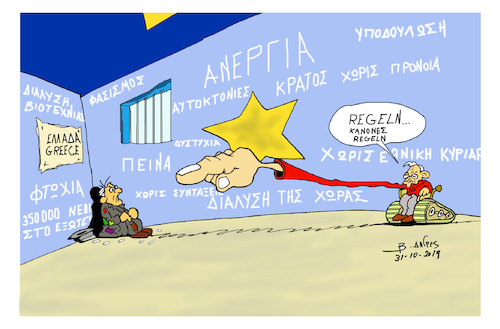 499
Wolfgang Schäuble statements on

1
Applause

de
vasilis dagres
au 05. novembre 2018
Mr Schäuble, together with the International Monetary Fund, the European Central Bank and the European Union, which the Neo-liberal politicians of Greece have accepted, have destroyed the country.

Created, increased unemployment, broke the Greek industry, abolished the social state, persecuted 350000 young, created hungry, homeless, suicides, and had the authority to sell out the country and public property for a debt created by bankers for plundering the country..

Mr Schäuble , and Mr Horst Lorenz Seehofer, stop talking about Greece and the Greeks.
Mr, Schäuble ,he should know that his country owes to Greece.

Mr Schäuble , he should know that his country owes to Greece.
Mr Schäuble should only deal with his own country so that the European Union can change.

Ο κύριος Σόιμπλε με αυτά που επέβαλε μαζί με το Διεθνές νομισματικό ταμείο , την ευρωπαϊκή κεντρική τράπεζα , και την ευρωπαϊκή ένωση , τα οποία και τα αποδεχτήκαν οι Νεοφιλελεύθεροι πολιτικοί της Ελλάδας , κατέστρεψαν την χώρα .
Δημιούργησαν , αύξηση της ανεργίας , διέλυσαν την Ελληνική βιομηχανία , κατάργησαν το κοινωνικό κράτους , εδίωξαν 350000 νέους , δημιούργησε πεινασμένους , αστέγους , αυτόχειρες , και έκανε την αρχή για να ξεπουληθεί η χώρα και η δημόσια περιουσία , για ένα χρέος που δημιούργησαν οι τραπεζίτες για την καταλήστευση της χώρας.
Ο κύριος Σόιμπλε , και ο κύριος Ζεεχοφεν , να σταματήσουν να μιλούν για την Ελλάδα και τους Έλληνες .
Ο κύριος Σόιμπλε , θα πρέπει να γνωρίζει ότι η χώρα του χρωστάει στην Ελλάδα.
Ο κύριος Σόιμπλε , θα πρέπει να γνωρίζει ότι πέρα από τους κανόνες υπάρχουν οι άνθρωποι .
Ο κύριος Σόιμπλε θα πρέπει να ασχολείται μόνο με την δική του χώρα , για να μπορεί να αλλάξει η ευρωπαϊκή ένωση .
Politique » National/Domestic International Elections Military & Security Taxes Terrorism Economy & Money Jobs & Social Historical Other Politicians Parties Democracy

MEDIA

G7

major General...