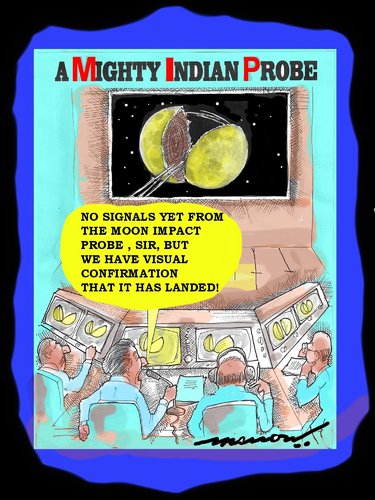 2562
The Mighty Indian Probe

de
kar2nist
au 03. mai 2012
The Moon Impact Probe (MIP) developed by the Indian Space Research Organisation (ISRO), India's national space agency, was a lunar probe that was released by ISRO's Chandrayaan-1 lunar remote sensing orbiter which in turn was launched, on 22 October 2008, aboard a modified version of ISRO's Polar Satellite Launch Vehicle.It separated from the moon-orbiting Chandrayaan-1 on 14 November 2008, 20:06 and crashed, as planned, into the lunar south pole after a controlled descent.

Der Mond Auswirkungen Probe (MIP) von der Indian Space Research Organisation (ISRO), Indiens nationale Raumfahrtagentur entwickelt war ein Mondsonde, die von ISRO Chandrayaan-1 Lunar Fernerkundung Orbiter, die wiederum ins Leben gerufen, am 22. Oktober 2008 wurde veröffentlicht wurde, an Bord einer modifizierten Version des Polar Satellite Launch ISRO Vehicle.It vom Mond-Umlaufbahn Chandrayaan-1 am 14. November 2008, 20.06 Uhr getrennt und stürzte ab, wie geplant, in der lunaren Südpol nach einer kontrollierten Abstieg.

Probe Impactul Luna (MIP), dezvoltat de Indian Space Research Organisation (ISRO), agenţia India spaţiul naţional, a fost o sondă lunară, care a fost lansat de ISRO de Chandrayaan-1, lunar teledetecţie Orbiter care, la rândul său a fost lansat, la 22 octombrie 2008, la bordul o versiune modificată a lui ISRO Vehicle.It Polar Satellite Launch separat de luna-orbita Chandrayaan-1 la 14 noiembrie 2008, 20:06 şi sa prăbuşit, cum a fost planificat, în polul sud lunar, după o coborâre controlată.

Hindistan Uzay Araştırmaları Kurumu (USAK), Hindistan ulusal uzay ajansı tarafından geliştirilen The Moon Impact Probe (MIP), sırayla 22 Ekim 2008 tarihinde, başlatılan USAK en Chandrayaan-1 Kameri uzaktan algılama uzay aracı tarafından yayımlanan bir ay sonda oldu 14 Kasım 2008, 20:06 tarihinde ay-yörüngedeki Chandrayaan-1 ayrılmış ve kontrollü bir iniş sonrasında kameri güney kutbu içine, planlandığı gibi çöktü USAK Polar Uydu Fırlatma Vehicle.It değiştirilmiş bir sürümü gemiye.
Recherche et Technique » Traffic & Space Flight