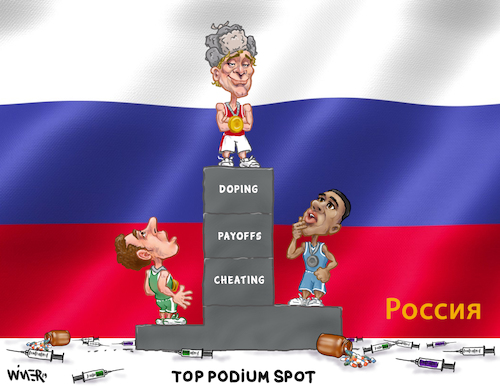 1569
Russia Caught Cheating Again

2
Applause

de
karlwimer
au 03. janvier 2020
Latest for WoodyPaige.com. Groundhog Day: Russia caught cheating in sports...It feels like we've been here before.
This past month, Russia was banned from all major sports competitions for the next four years, following gross violations of doping rules and state-sponsored circumvention of World Anti-Doping Agency (WADA) controls.
"Finally, Russia's many doping and obstruction sins will now get some of the punishment they richly deserve. For far too long, Russia has weaponized doping fraud and state-sponsored criminal activity as a tool of foreign policy," said Dr. Grigory Rodchenkov, who had worked for the Russian anti-doping agency until he (and several others) felt they could no longer support the deception.
By playing by their own rules through the years, Russia has succeeded in stacking their podium opportunities, while continuing to frustrate the rest of the world of competitive international sports.
Of course, there's a long list of bad actors through the years, including American athletes, but rarely has a single country so blatantly sought to gain an edge, and often with only minor repercussions.
Those of us old enough to remember the days of the Soviet Union will recall the steroid and human growth hormone cheating that helped fuel the Russian sports machine (and much of the Soviet bloc countries). Much of the doping was relatively new at the time, and so often difficult to effectively catch and penalize. But it isn't just steroids and human growth hormones that have defined the cheating through the years. In one instance, Russia influence and bribes in the 2002 Olympics led to a Russian gold medal. Once the scandal was uncovered, changes were made to the way judging and scoring occurred for all international skating events. Well documented has been the influence (i.e., bribes and bullying) that Russia has used to land the Olympics and the FIFA World Championships in recent years (despite better candidates in the mix).
The response by Russian authorities to the latest judgment handed down was predictable: total denial. But once again, a mountain of evidence was compiled to bring the case to the international body and make the charges stick.
The fear from many in the international community is that the Russians will continue to use their influence to avoid penalty or to allow their athletes (many of whom have been in state-directed, performance enhancing drug related programs) to continue to compete on the world stage, and unfairly stack the podium in their favor.
Sport » Soccer/Football Other Sports Doping Championships Olympia
russiasportsathleticsolympicsfifadopingcheatingpayoffsbriberysovietunion