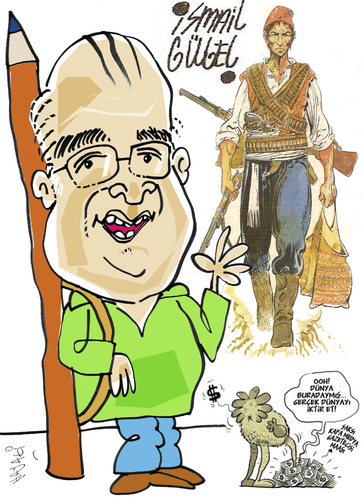 5183
ISMAIL GÜLGEC 1947-2011
de
Hayati
au 16. février 2011
Turkish cartoonist Ismail Gülgeç has passed away at the age of 63.

The Turkish Journalists' Association, or TGC, said Wednesday that TGC member cartoonist Gülgeç passed away at Istanbul University Medical Faculty Hospital due to heart failure.

A ceremony will take place for Gülgeç at 10 a.m. in front of daily Cumhuriyet's building in Şişli on Thursday, and he will be laid to rest in the northwestern province of Çanakkale.

Born in the southeastern province of Gaziantep in 1948, Gülgeç began working at the Yeni Asir newspaper in 1968. In the 1970s, he worked for newspapers such as Demokrat İzmir and Ege Ekspres, as well as the magazine Devir.

Gülgeç worked at daily Milliyet between 1975 and 1980 before moving to Cumhuriyet. He also drew cartoons for the Aktüel, Sabah Pazar, Star, Habertürk and BirGün newspapers, as well as magazines Nokta and Para.
Médias et Culture » Press Traditions Kunst und Museen
boyaciogluhayatiistanbulgaziantepkomikzeichnerkarikaturiststarzeichnerguelgecismail

Musik liegt i...

Gerd und Heidi

BIRTHDAY