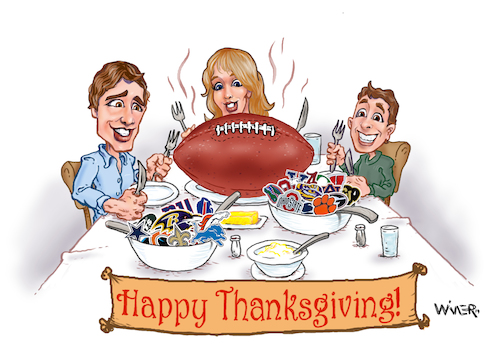 1330
Happy Football Thanksgiving

1
Applause

de
karlwimer
au 29. novembre 2019
A cartoon for WoodyPaige.com, an outstanding platform for all things sports related (well, mostly for the U.S.).

Large quantities of football viewing is consumed by Americans, and at no time more so than around the holidays. Certainly a Thanksgiving tradition as much as any other.

For the day of Thanksgiving itself, pro football is king. And although the hapless Lions are always on the schedule, the addition of a third game has increased the odds of decent football for viewing while digesting copious amounts of food over the course of Thanksgiving Day.

The smorgasbord of football spills into Friday and then Saturday with college football, and typically lots at stake for conference playoff seeding. Additionally, rivalry games can be found all over the dial (can we say that anymore?), so dig deep in the fridge for those outstanding leftovers. Ohio State is looking as unbeatable as anyone at the moment, but there may be no more bitter rivalry as the one they share with Michigan. Anything and everything has been known to happen in these late season matchups. Ohio State has won seven in a row, but Michigan has nothing to lose, the bitter taste of last year's 62-39 beat-down is still fresh in their mouths, and Harbaugh's back is against the wall.

Then go back to the icebox to fill up on more NFL on Sunday. Separation seems to be happening between the stronger teams and a host of pretenders. But now is the time to pay attention as this is the time of year when a team or two wakes up, gets healthy, and makes a surprise run, while other teams falter.

Come Monday, a food/football coma will be in full effect and the transition back into the workflow will not be easy. But for the most part, it marks a special time of the year for over-indulgence. Happy Thanksgiving to all!
Sport » Soccer/Football Ball Sports Other Sports