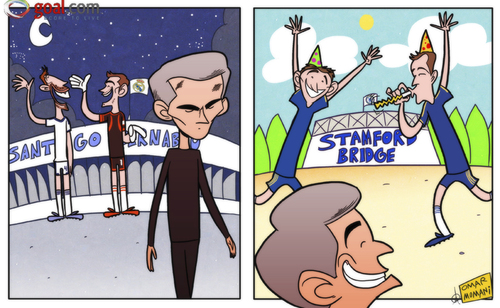 2554
Goodbye Bernabeu

3
Applause

de
omomani
au 01. mai 2013
Jose Mourinho gave the biggest indication yet that he is set to leave Real Madrid at the end of the season after watching is side suffer elimination from the Champions League to Borussia Dortmund on Tuesday night.

"I know I'm loved in England," Mourinho said after Madrid won 2-0, but were beaten 4-3 on aggregate by the Bundesliga side. "Loved by the fans, the media. I know I'm loved by some clubs - especially one."

Goal.com understands the Special One has agreed a deal to return to Chelsea, with Falcao set to follow him to Stamford Bridge.

And while Branislav Ivanovic has admitted the Blues 'cannot wait' for Mourinho to return, the likes of Sergio Ramos and Iker Casillas might be pleased to see the back of him at the Bernabeu.
Sport » Soccer/Football Championships
casillaschelseajohnterrylampardmourinhoramosrealmadridsantiagobernabeustamfordbridge