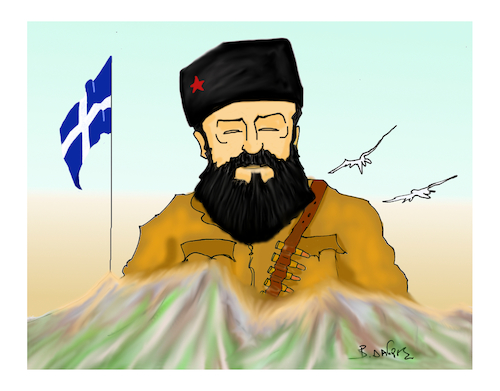 469
GREECE ARIS VELOYXIOTHS

2
Applause

de
vasilis dagres
au 19. juin 2019
1905: 27/8: Born Thanasis Clara (Aris Velouchiotis).
16/6 1945: Velouhioti Mars Death.
1941 27/9: Establishment of the IPU The Greek People's Liberation Army (ELAS) was the military wing of the National Liberation Front (EAM) in the triple occupation of Greece. (Germany, Italy, Bulgaria and local collaborators). Founded on February 16, 1942.
military leader of ELAS was the patriot guerilla fighter and Aris Velouchiotis.
In this mainly due to the first major act of resistance that was the blowing up of the bridge Gorgopotamos.
He fought for the independence and sovereignty of the people in his country.
He was persecuted, exiled and tortured by the fascist regime of John Metaxas, but also denounced by his Communist comrades.
1905: 27/8: Γεννήθηκε ο Θανάσης Κλάρας ( Αρης Βελουχιώτης ).
1945 16/6: Θάνατος Άρη Βελουχιώτη.
1941 27/9: Ιδρύεται το ΕΑΜ
Ο Ελληνικός Λαϊκός Απελευθερωτικός Στρατός (ΕΛΑΣ) ήταν το στρατιωτικό σκέλος του Εθνικού Απελευθερωτικού Μετώπου (ΕΑΜ) κατά την τριπλή κατοχή της Ελλάδας. ( Γερμανίας Ιταλίας Βουλγαρίας και ντόπιων δωσίλογων ).
Ιδρύθηκε στις 16 Φεβρουαρίου του 1942.
Στρατιωτικος αρχηγος του ΕΛΑΣ ηταν ο πατριώτης αγωνιστής και αντάρτης Άρης Βελουχίωτης.
Σε αυτόν κατά κύριο λόγο οφείλεται η πρώτη μεγάλη αντιστασιακή πράξη, που ήταν
Η ανατίναξη της γέφυρας του Γοργοπόταμου .
Πολέμησε για την ανεξαρτησία ,και για την κυριαρχία του λαού στην χώρα του.
Καταδιώχτηκε , εξορίστηκε και βασανίστηκε από το φασιστικό καθεστώς του Ιωάννη Μεταξά , αλλά και αποκηρύχτηκε από τους κουμουνιστές συντρόφους του.
Politique » National/Domestic International Military & Security Terrorism Other Politicians Parties Democracy

G7

BREXIT

Merkel Seehof...