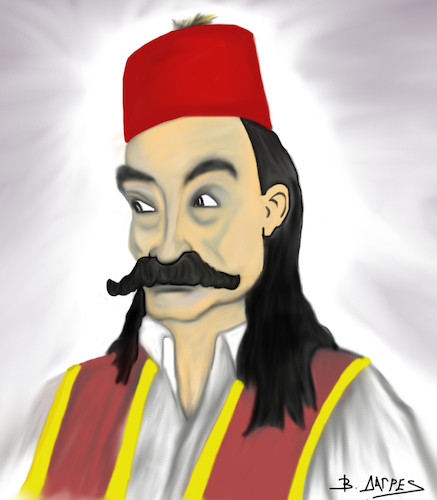 508
GEORGIOS KARAISKAKHS

0
Applause

de
vasilis dagres
au 25. mars 2021
200 years since the liberation of Greece from the Ottoman yoke, and after so many years it is again fighting for independence, receiving threats of war from the neighboring country, whose politicians do not dare to stand up according to the popular will of foreign agents , continue to talk about the sovereign rights of our country.


GEORGIOS KARAISKAKHS
One of the important military leaders of the revolution who did not worship either the Ottomans or the enslaved politicians, pawns of the then great powers, and as it is historically known, the rebels who do not bow their heads, are assassinated.

200 χρόνια από την απελευθέρωση της Ελλάδας από τον οθωμανικό ζυγό , και μετά από τόσα χρόνια αγωνίζεται και πάλι για ανεξαρτησία , δεχόμενη απειλές πολέμου από την γείτονα χώρα , που οι πολιτικοί της μην τολμώντας να σηκώσουν το ανάστημα τους σύμφωνα με το λαϊκή θέληση στου ξένους παράγοντες , συνεχίζουν να συνομιλούν για τα κυριαρχικά δικαιώματα της χώρας μας.

Γεωργιος Καραισκάκης

Ένας από τους σημαντικούς στρατιωτικούς ηγέτες της επανάστασης που δεν προσκύνησε ούτε τους Οθωμανούς , ούτε τους υπόδουλους πολιτικούς , πιόνια των τότε μεγάλων δυνάμεων , και όπως είναι ιστορικά γνωστό, οι επαναστάτες που δεν σκύβουν το κεφάλι , Δολοφονούνται .
Politique » National/Domestic International Other Politicians Parties Democracy