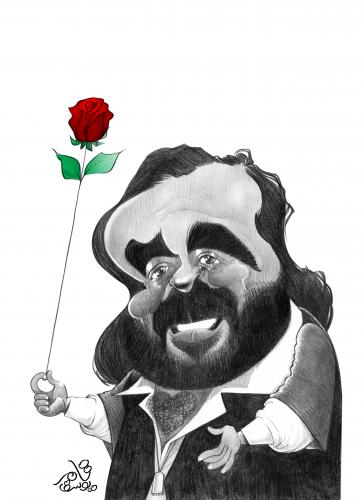 7215
Demis Roussos

de
tamer_youssef
au 28. avril 2009
* Demis Roussos | Greece | by Tamer Youssef | Pencil Sketch on Regular Paper | California | USA | April 2009 | Tamer Youssef's Caricature World *

Artemios (Demis) Ventouris Roussos (born June 15, 1946) is a Greek singer. He was born in Egypt to ethnic Greek parents George and Olga (Engineer Yorgos Roussos), and raised in Alexandria. His parents lost everything and moved to Greece after the Suez Crisis.
After settling in Greece, Demis participated in a series of musical groups beginning with The Idols when he was 17. After this he joined We Five (not the San Francisco, California folk-rock group), another covers band which had limited success in Greece. He came to a wider audience in 1968 when he joined progressive rock band Aphrodite's Child, initially as singer but later also playing bass guitar. His distinctive operatic vocal style helped propel the band to international success, notably on their final album 666, which became something of a cult classic.
demisroussosgreecefamouspeoplesingermusicmusiciancatooncaricatureportraitpencilartsketchbytameryoussefegypt