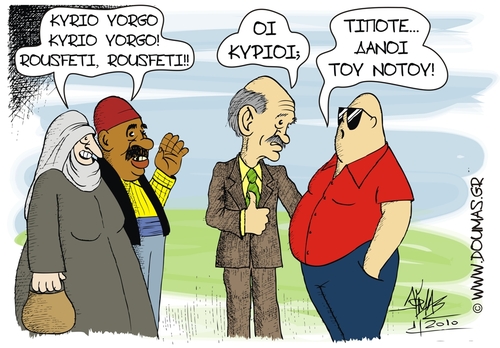 5353
Danes of the south

1
Applause

de
doumas
au 18. janvier 2010
George Papandreou had promised Reformations to convert Greece to the Denmark of the south. After 100 days of government the only thing he's done, is to promote the nationalization of all illegal immigrants in Greece, in order to create a new voters deposit for the future. The dialogue is:
IMMIGRANTS: Mr. Yorgo, Mr. Yorgo! Pork, Pork!
PAPANDREOU: The Gentlemen?
LAMBROS: Just a couple of Danes of the South.
(Eleftheros Kosmos, 09.01.2010).
papandreougreecegreekhellashellenicpoliticsgovernmentpasoksocialistimmigrationpolicynationalization

Receives

Casualties