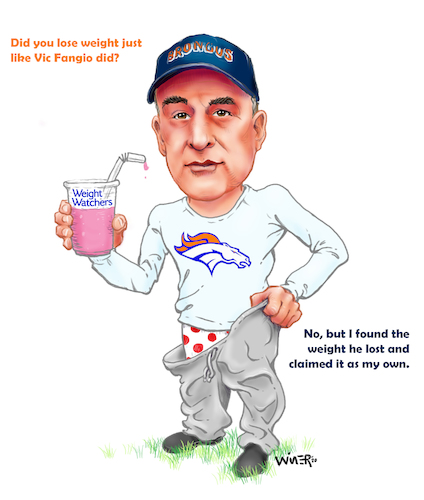 206
Coach Fangio Weight Loss

1
Applause

de
karlwimer
il y a 2 semaines
My latest cartoon for Mile High Sports Magazine, the premier sports publication for all things sports related in the Rocky Mountain area and the greater USA.

Denver Bronco Coach Vic Fangio lost a boatload of weight in the past 9 months. Whether it was pandemic related, or inspired by Weight Watchers, he has a new look, and probably needs to invest in a new wardrobe!

Hopefully, the new look and approach has other benefits, including leading to different outcomes than last year, when the Broncos ended up on the bottom end of the league.
Sport » Soccer/Football Ball Sports Other Sports
denverbroncosvicfangionflamericanfootballsportscoachweightloss