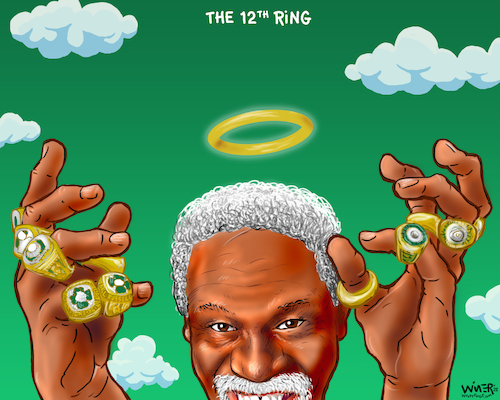 Bill Russells 12th Ring
#410389 / vu 240 fois
Latest for WoodyPaige.com, a leading online platform for sports commentary in the US and abroad. Celebrating the life of a singular man.

We lost another legend. Bill Russell, who led the Boston Celtics to 11 titles in 13 years but did so much more, passed away at 88 years old.

I recall as a child my Dad explaining that although Wilt Chamberlain (my favorite player at the time) was phenomenal and would often win the stat battle, Bill Russell would invariably lead his teams to wins and championships.

This leadership flowed into coaching and his efforts off the court to address racism and poverty. The number of people whose lives he changed or provided invaluable direction for is a massive iceberg with just the tip being touched by the articles and stories in the press this past week.

There will never be another one quite like Bill Russell, but his legacy left plenty of inspiration for us and younger generations to live up to.
Sport » Ball Sports Winter Sports Other Sports Championships
sportscartoonnbabostoncelticsbillrussellchampionshipsmemorial11