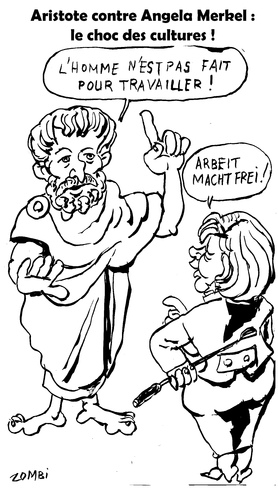 6560
Aristotle against Merkel
de
Zombi
au 29. octobre 2011
- Due to deep understanding of the World Mechanics of Aristotle, we know that Do-nothing and Working is the same job. Money works, whereas Aristotle has no Time for this.
- French Voltaire, who was Kaiser Friedrich Stick Sucker made this Joke: 'Work is not for Human people... because it makes him tired.'
'Indeed, would Aristotle answer: 'Animals need to work the day long for being healthy, although this makes Human people closer to the Death.' And we know why do-nothing are better paid than workers, but more tired and older too. Why it is more easy for Hardworker to hate the Work, than for Do-nothing bad Angela Merkel.
Philosophie » Love & Sexuality Spirituality & Belief Poverty Death Game & Competition Health War & Peace Hate & Violence Time & Age Supernatural

Cartoon Po...

Menad

Call of Duty ...