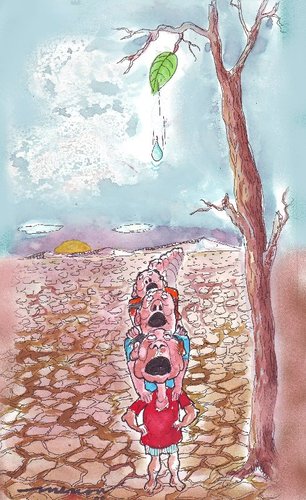 6971
Airdrop

de
kar2nist
au 27. août 2011
Tinkering with nature's ways has made the humanity pay a terrible price. Global warming has set in and the aftermath is being felt in all walks of life. Someone said the third world war is likely to be fought on water...And he may be right The day is not far off when we all will have to line up for our daily share of a single drop...A pity!

Basteln mit der Natur die Wege hat die Menschheit einen schrecklichen Preis bezahlen. Die globale Erwärmung hat in gesetzt und die Folgen wird in allen Bereichen des Lebens zu spüren. Jemand sagte der dritte Weltkrieg ist wahrscheinlich auf dem Wasser ausgetragen werden ... Und mag er recht haben Der Tag ist nicht fern, an dem wir alle haben, um sich für unseren täglichen Anteil an einem einzigen Tropfen ... Schade!

Armeggiare con modi la natura ha reso l'umanità pagare un prezzo terribile. Il riscaldamento globale ha messo in e le conseguenze si fa sentire in tutti i ceti sociali. Qualcuno ha detto che la terza guerra mondiale è probabile che sia combattuta sull'acqua ... E lui può essere di destra Il giorno non è lontano quando tutti dovranno in fila per la nostra quota giornaliera di una goccia ... Un vero peccato!



Doğanın yollarını ile tinkering insanlığa korkunç bir fiyat ödemek yaptı. Küresel ısınma ve sonrasında hayatın her alanında hissedilmektedir. Birisi dedi üçüncü dünya savaşının su savaşmış olması muhtemeldir ... Ve o gün hepimiz tek bir damla günlük payı hattı olacak uzak değildir olabilir ... Yazık!
Nature » Ecological Destruction
forquescarecitywarsworldwarmingglobalwaterdeforestationnature