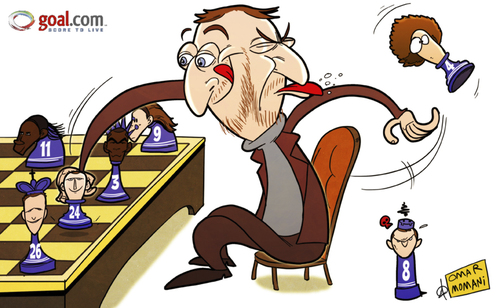 3252
Abramovich adds another pawn to

1
Applause

de
omomani
au 20. janvier 2012
There seems no stopping Andre Villas-Boas and his rebuilding plans at Chelsea, as the arrival of Gary Cahill is likely to be the first of many through the revolving door.

However, the manager's policy of squad rotation and the disposal of several experienced heads from the team has made for an uncertain state of affairs - almost as much so as David Luiz's defending.
The ruthless style exhibited by the 34-year-old gaffer sees the Brazilian stopper likely to become the sacrificial lamb, while Frank Lampard remains in the cold despite his recent goalscoring form.

But chairman Roman Abramovich has come up with a solution - treat the game as a chess board!

Enter Ashley Cole as the queen, John Terry as the king and an unhappy Lampard as a ... rook? Told you it was confusing - and that's not even taking into account the conundrum involving Didier Drogba or Fernando Torres.
Sport » Soccer/Football Championships
abramovichashleycolebrazilcahillchelseacotedivoiredavidluizdrogbaenglandlampardpremierleaguerussiaspainterrytorres