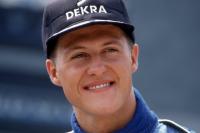 schumachergirl
"I dedicated/devoted Michael Schumacher friend "
MARLOW, Royaume-Uni
Actif depuis August 22, 2014
Galerie de schumachergirl
(0)
Favoris
Sur mon travail
Nom
Mrs Gail J Gray
Anniversaire
1956-06-07
Formation
Private Boarding School
Style
Not Available
Outils
Writer
Influences
Michael Schumacher, Leonardo Di Vinci
Personnage
préféré
Carcatures of Michael Schumacher.
Sur moi


I am a Michael Schumacher friend fan since 1991 and i love artwork from Leonardo Di Vinci and Pablo Piscasso, i enjoy Reading a lot about Michael Schumacher, horror stories, Sherlock Holmes, Poriot, i have written a book for him called Man on the Move subtitled Michael Schumacher, My Sporting Hero. He has the 1st signed copy. I enjoy Cooking,Eating foreign cruisine, Travelling around the world, my favourite places are Tenerife, Canary Islands, Spain, Germany,Switzerland.