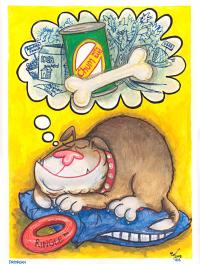 dotmund
Brighton and Hove, Royaume-Uni
Actif depuis September 08, 2008
nicerworld.wordpress.com/
366 252
Avis
50
Commentaires
12
favorisé
Sur mon travail
Nom
ed
Anniversaire
1980-04-14
Formation
I have an art GCSE, 'B' grade!
Style
Cartoonist
Outils
Pencil, Pen and ink, Watercolour, Gouache, Acrylics
Influences
Ronald Searle, Gerald Scarfe, Carl Giles, Chuck Jones
Personnage
préféré
Animated: Daffy Duck, Foghorn Leghorn, Roadrunner, Ren & Stimpy; Print: Biffa Bacon
Sur moi


I am a freelance cartoonist looking for new clients and opportunities. I won the British Cartoonists' Association Young Cartoonist of the Year award in 2003, which was a very long time ago.