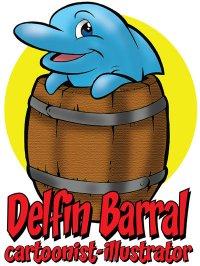 delfin_barral
Astoria, New York, États-Unis
Actif depuis May 01, 2010
www.facebook.com/album.ph...
202 930
Avis
5
Commentaires
1
favorisé
Galerie de delfin_barral
(3)


Sur mon travail
Nom
Delfin Barral
Formation
School of Visual Arts-BA of Illustration
Style
Pen and ink & computer
Outils
Mac-Photoshop & Illustrator
Influences
Classic comic books and cartoons and retro anime.
Personnage
préféré
Golden age Warner Brother's Looney Toons & Merrie Melodies.
Sur moi


Delfin Barral, a native New Yorker, has been a graphic artist/cartoonist for over 23 years. Del studied at New York City's High School of Art and Design and graduated with a B.A. in Illustration at the School of Visual Arts (SVA). His artistic versatility enabled him to develop in several facets, including commercial storyboards; comic books and graphic novels such as the Elfquest series and Stargate movie comic adaptation; as well as animations for Sesame Workshop's interactive CD-Rom department. Currently Del works as a graphic designer for children's apparel and freelances as a graphic artist/illustrator.