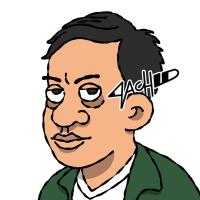 cartoonistzach
Cebu, Philippines
Actif depuis June 26, 2019
cartoonmovement.com/p/716...
7 974
Avis
3
Commentaires
1
favorisé
Sur mon travail
Nom
ZACH
Anniversaire
1996-06-11
Formation
Applied Physics (University of San Carlos)
Outils
Graphic software
Sur moi


Zach (born 1996), is a cartoonist and aspiring scientist from the Philippines. Initially working for campus publications, he then shifted to freelance and mainstream press cartooning in 2018. While finishing his degree in Applied Physics, he currently works as an editorial cartoonist of People's Bulletin, a local weekly newspaper. He is also the Chief Creative Officer and Illustration Supervisor for Assortedge, an emerging youth media organization in the Philippines specializing at contextual reporting, explanatory journalism, and satire.