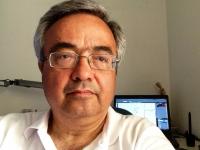 George Trialonis
"Try to remember that this is just a dream."
Heraklion, Crete, Grèce
Actif depuis May 27, 2014
goldenbees.wordpress.com
16 980
Avis
0
Commentaires
0
favorisé
Galerie de George Trialonis
(11)


Sur mon travail
Nom
George Trialonis
Anniversaire
1954-05-14
Formation
Bachelor of Arts in Philosophy, Uni. Of Toronto
Style
drawing, painting
Outils
laptop, iPad
Sur moi


Born in Heraklion, Crete, Greece. Primary and secondary education in Heraklion. University education in the USA and Canada. Married. Worked as English language instructor and later as translator/interpreter. Now doing what I like most: sketching, painting, drawing.