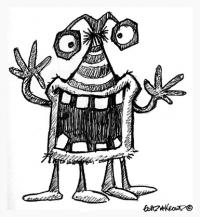 Eoinymac
"God is good but never dance in a small boat"
Irlande
Actif depuis April 17, 2008
www.eoinymac.com
42 729
Avis
14
Commentaires
2
favorisé
Galerie de Eoinymac
(6)


Sur mon travail
Nom
Eoin McKeown
Anniversaire
1900-01-01
Formation
I studied Fine Art, Product Design and 3D Animation.
Style
I always start with paper and pencil and then work things up in Flash and photoshop.
Outils
Pen, Pencil, Wacom, Mouse, Flash, Photoshop
Influences
Ralph Steadman, Gary Larson, Ronald Searle, W. Heath Robinson, Leonardo DaVinci
Personnage
préféré
Pepé Le Pew
Sur moi


Freelance Cartoonist/ Illustrator/ Designer. Worked as a character designer for an educational software co. before going out on my own.