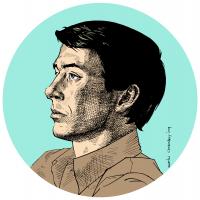 Eoin
"Happy New Decade."
Dublin, Irlande
Actif depuis December 04, 2009
www.eoincoveney.com/
104 257
Avis
65
Commentaires
9
favorisé
Sur mon travail
Nom
Eoin Coveney
Anniversaire
1968-01-05
Formation
4 year diploma incl. foundation
Style
pen and ink, brush , photoshop
Outils
Hunt dip pens, markerbrush.
Influences
Cam Kennedy, George Bridgman
Personnage
préféré
virginia woolf (medium) by Amir Taqi
Sur moi


I've been illustrating professionally for 14 years, mostly for the advertising industry. In the last 5 years I've been moving more towards editorial work.