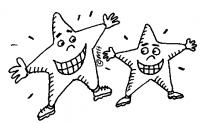 Cristina
"AstronomyHumor.com - a billion laughs."
Juneau, Alaska, États-Unis
Actif depuis May 05, 2011
Sur mon travail
Nom
Cristina Della Rosa
Sur moi
I am creator of eclectic website on astronomy humor: astronomyhumor.com. I have published three humor e-books: Your Galaxy Needs You - Astronomy, Astronaut and Alien Humor. Just $3.00 from amazon.com/kindle. I'm a volunteer and Board President with the Marie Drake Planetarium in Juneau, Alaska.